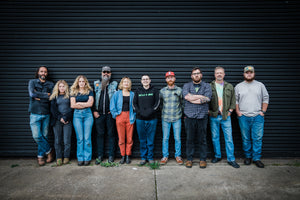 Founder + Owner
Corry Blanc
Very first crew member as of 2012
Corry has been making a name for himself since he founded Blanc Creatives in 2012. He was born and raised in north Georgia, moved to Charlottesville in 2007, and as of September 2020, a first-time dad. Some of his favorite musicians include Nathaniel Rateliff, Damon Alburn, Bahamas, and The Rolling Stones. Corry has a true aptitude for MacGyvering just about anything and everything we'd need in the shop. He's passionate about photography and has slowly been adding to his vintage camera collection in recent years.
Bookkeeper
Trey
Crew member since 2019
From the mountains of WV, Trey is one of the truest Phish Heads we've ever encountered. Phish is pretty much his full-time job after being our bookkeeper and salesman/enthusiast for his Bloody Mary company, Back Pocket Provisions. His most prized possessions are his Les Paul or maybe his meteorite from space. If he isn't listening to Phish then most likely he's listening to his spirit animal, Neil Young. He'll be the first to admit he's a nerd and loves collecting old Batman comics and Magic the Gathering. Trey has always been head over heels for our copper skillets.
head of cookware
Christopher K
Crew member since 2021
Christopher hails from New York City. He's our in-house expert on Japanese pro wrestling and old samurai, kung fu, and horror flix. He has amassed an extensive collection of old records and movies. Hands down, the best meal he's ever had is the meatball wedge from Lioni's in BK. You'll most definitely catch him rocking some cool vintage. We are hoping he'll start an official Blanc Creatives radio station for us someday.
Shipping + logistics
Brady
Crew member since 2021
Originally from Rockford, IL, Brady relocated to Virginia to join our crew in 2021. He's worked in special events and shipping/logistic roles for the past 15+ years. His most prized possession is the watch his wife gifted him for their wedding. When not at the shop he is probably hiking with his dog, Benny, enjoying scenic drives, or riding bikes. Brady loves tinkering with anything that moves and maybe it comes as no surprise that he collects Volkswagen Hotwheels. He answered, "gotta be that cute little 9" skillet" to what's your fave Blanc product.
peripherals production
Hannah
Crew member since 2021
Hannah joins us from Havertown, Pennsylvania. She is currently training at the Virginia Institute of Blacksmithing and has been seriously crushing making pans ever since becoming part of our crew. She collects vinyl records, takes her tea with honey, and tries not to give unsolicited advice. Hannah's favorite album is Maggot by Dazey and the Scouts but she can probably be found listening to Pink Shift at work. She recommends the 11' skillet and a good bucket of Maryland crabs.
peripherals production
Nick
Crew member since 2022
Born and raised in central Virginia, Nick has 10 years of experience in the food industry under his belt and 5 years of carpentry experience. When he's not hammering away in the shop, he's listening to bluegrass or spending quality time doing one of the outdoor trifecta, hiking/canoeing/kayaking. Nick also has his blacksmithing shop at home and continues to hone his craft in his free time. His favorite Blanc pan is the heritage skillet.
Marketing + Communications
Cassidy
Crew Member since 2022
Cassidy joins us after returning to Charlottesville from New York City. After a variety of marketing and advertising jobs in the big city, she's grateful to once again be surrounded by trees, mountains and beer under $10. While she misses the NYC food, she's learning to use her Blanc 11" skillet to replicate some of her favorites.
Head of Woodware
Sonja
Crew Member since 2022
Sonja is a recent graduate of the University of Virginia. where she studied nothing related to woodworking or design. Her family's history in craftsmanship and ability to make the everyday beautiful is what first drew her to work for Blanc, and she's very glad it did. When not in the shop, Sonja can ba found spending time outside or designing unnecessary wooden projects in her head.
Cookware production
Walker
Crew member since 2022
Born and raised in central Alabama, relocated to Waynesboro to attend the Virginia Institute of Blacksmithing. Walker is excited to be utilizing blacksmithing skills.  He loves classic rock and dabbles with drums. Walker is definitely an old soul.
cookware production
hailey
Crew member since 2022
Hailey joins us fresh out of receiving her BFA in painting and drawing from JMU. She loves the process of creating no matter the medium, as long as she gets to use her hands she is content. In her spare time she is either painting, in the mountains, or spending time with loved ones. Hailey recommends the pro saucier - 11" long handle. 
cookware production
christopher a
Crew member since 2022
30+ years a chef, Christopher came to Creatives to find out how the "sausage" is made. A lifelong devotee of carbon steel knives and pans, he grew up an airline brat in a serious foodie family that travelled the world on gastronomic dogma, gently coaxing recipes from chefs around the world and bringing them to their domestic tables. Growing up sailing and living off the bounty of the Chesapeake Bay, he opened his first restaurant in Gloucester, Virginia as a serious advocate of saving the Bay. He now resides in Waynesboro.