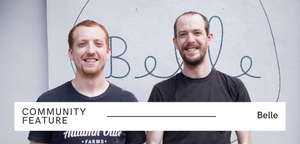 Est. 2019 By Co-Owners + Brothers Scott & John Shanesy
(pictured above)
Located a quick walk from our shop, Belle has become our crew's go-to for bakery treats and sandwiches so good that we can't choose a favorite… okay, okay if you must know - it's a tie between the My Italian and Cubano.
In March of 2021, Scott, who makes all of Belle's 100% organic sourdough bakery items, kindly let us join him behind the scenes in Belle's bakery. Together, we crafted an irresistible cinnamon roll collaboration using his own recipe and our 13" Pro Saucier with Loop Handles.
Belle's Background
John and Scott's origins are deeply rooted in Charlottesville, VA. Collectively, they have worked with Paradox Pastry, MAS Tapas, Petit Pois and The Whiskey Jar. Both have spent time in New York honing their skills as a chef and bakers. In 2019, John and Scott collaborated on a pop-up series called Bar Naturel where they combined Scott's bread with the best ingredients of Virginia for a Parisian bistro dining experience - simple food, great bread, and delicious wine. Bar Naturel planted the seed for the Shanesy brothers and the future of Belle.
Their Work
As an integral part of the neighborhood - Belle is excited and grateful to be part of people's everyday routines. Now open 7 days a week for bakery goodies, take away bread loaves, and lunch items with dinner returning soon. They strive to source all ingredients locally - like honey from The Belmont Bee Company, coffee from Shenandoah Joe and artisan meats from Autumn Olive Farms. All of their breads and pastries are handmade and baked in-house using 100% organic flours. Notably, they do not use commercial yeasts and all of their baked items are 100% sourdough. With spring growth in full force, Belle is excited to start incorporating freshly sprouted veggies - we are talking tasty things like ricotta and spring pea toast, escargot in spring onion butter, and lavender doughnuts (which have just been released). These are just a few items on their list of new things. If you're a local, keep your eyes peeled for good weather and a chance to chill on their patio with a prepared cocktail, wine, and beer list. And remember... "NO RESOS. Always walk-ins - first come, first served!"
Sourdough Cinnamon Rolls
w/ Scott Shanesy
Scott only uses 100% organic flours to make every single 100% sourdough baked item. No commercial yeasts allowed! He is constantly adjusting his sourdough and recipes to fluctuate with the environment depending on the temperature and humidity in Belle's bakery. Scott's recipe is specific for Belle and his process can not be recreated. However, he does recommend Maurizio Leo's recipe as a good starting point. The Perfect Loaf and Ian Lowe are Scott's go-to recommendations for any and everything sourdough.
If you yourself are interested in making sourdough cinnamon rolls, Scott recommends getting to know your flour, doing your research and adapting as you go. Keep in mind these rolls take time, so be patient.
So you've got your sourdough starter and dough all combined, eh? Lightly flour your work surface to roll out the dough. Scott looks for consistent measurements and uses a tape measure to double check that he is staying on track as he rolls out the dough. When rolling, look for an even thickness throughout. The cinnamons rolls are now ready for the filling. Traditionally, cinnamon roll filling consists of just cinnamon and sugar. Scott takes it up a notch by adding butter and honey and most importantly creaming all filling ingredients (cinnamon, brown sugar, butter and honey) together to create essentially a glue of wonderful, deliciousness that will hold the cinnamon rolls layers together. Once the filling is ready, spread it out using your fingertips rather than a spatula or other utensil. This ensures that your dough will not rip. Most importantly, leave about a 2" strip of just dough to fold it back over on itself in the next step. After the filling is spread, roll the dough into a log to be cut into individual cinnamon rolls. Scott uses a measuring tape again here for matching roll sizes. Use a knife to make measurement scores on the dough first and then cut individually.
If you have decided to use a Blanc Creative's pan to bake the rolls, butter the pan up nice and good and nestle the rolls in. Scott (and us too) like edges touching. If you have space or prefer not to have the rolls touch spread them out evenly. Be prepared, as the dough will triple in size throughout the proofing and baking process. Scott recommends making the rolls the day before you'd like to have them. Keep them in the fridge overnight and take them out the next morning to proof. When proofing, err on the side of a longer amount of time - remember patience is key.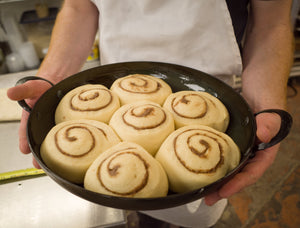 Once proofed, the rolls are ready for baking. Brush the top of the rolls with a simple egg wash so they develop a rich, golden color while baking. Just like knowing your flour, knowing your oven will make a difference too. Scott advises trying an oven temp of 375°F for 20 minutes to begin with - the rolls should have a final internal temperature of 200°F. Adjust time and oven temperature accordingly to what works best for you and your process. While baking, whip up a glaze. Scott uses a combo of powdered sugar and milk. Feel free to try something else like a cream cheese glaze or maybe even a citrus glaze.
When the rolls have reached 200°F internal temp, take them out to cool and be patient one last time. When the rolls have cooled, slather a heaping spatula worth of glaze onto each roll, and finally devour the glorious masterpiece you have created!
Clean-up should be a breeze if the pan was well buttered before the rolls were placed in it. We used warm water and a rag to remove any residual glaze or baked dough. For an even easier, no messing about clean up, line a Blanc Creatives pan with parchment paper. Rolls and leftover bits can be easily lifted out of the pan once baked.
key takeaways
Get to know your flour
Err on the side of a longer proofing time
Consistent dough thickness is key
Cream your filling ingredients
Leave about a 2" strip of just dough to fold back over on itself after rolling it into a log
Wishing you the best in your sourdough cinnamon roll endeavors!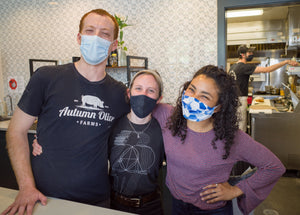 Scott, Sophie & Badra of Belle